About Us
Bringing honesty and transparency to the mattress industry.
With 20+ years of furniture industry expertise, the founders of OkiOki have had great success in offering high-quality products at fair and transparent prices.
After bearing witness to an increase in questionable marketing approaches and unnecessarily high prices, specifically in the boxed mattress space, they decided to develop a better option for consumers.

In the process of developing a better mattress, they recognized that standard, base-level products were being sold as "independently engineered technology" by competitors, inclusive of low-quality manufacturing, and undynamic body support systems–all at excessive prices. They disagreed with the notion that their competitors had created "perfect mattresses for everyone," neglecting the reality that everyone's sleep needs and preferences differ. They decided to design multiple mattresses–all with the same features as their competitors, but at a much lower price.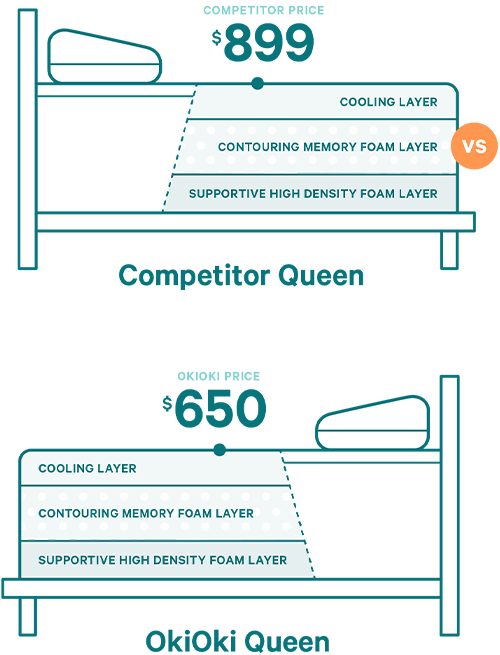 OkiOki has developed multiple mattress offerings for varying needs. Each option will be tailored, contain the highest quality foams, coils, and features, and will be offered at prices the masses can afford.
It wasn't easy, but doing something this noble never is.
Although the mattress industry has dramatically changed over the last 5 years, we are still not satisfied with the exorbitant prices. Our goal from the very beginning has been to build a company based on trust by offering a truly affordable product with the highest quality materials. We pulled from our years of experience in the furniture industry, tapping into our global supply chain, in order to offer the customer the absolute best value. We have taken all the fluff out of the marketing while leaving in all the things that make our mattresses great.
-ZACH D., CREATOR OF OKIOKI
Want to work for us?
We are passionate about what we do and the products we offer. We are always looking for like-minded people to be a part of something bigger. You in?